Halloween pictures from the first hour of work. More to come.



Mike, who temps as a pimp. He likes professions that end in the "ump" sound.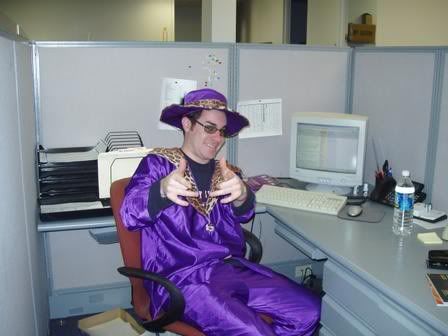 Doreen, who turned all of accounting into the emerald city last year and the bat cave the year before that and this year it was Bedrock.
Obsessive? Perhaps slightly. Also, may it be known that that is a WORKING FRED FLINSTONE CAR. You can actually sit in it and make it go forward with your feet, if you are so inclined to commute to work in such a manner. The other people in her office weren't in yet but she came as Wilma, she has a Betty, a Pebbles, and she managed to convince Shawn, a self-respecting assistant in his mid to late 20s, to dress as Bam Bam, although she couldn't convince him to shave his legs for it.
Edit to add: Upon further inspection of Bedrock I noticed that all the framed pictures of family members on these people's desks had been replaced with cartoon drawings of their flinstone family members.

BUT ONWARD...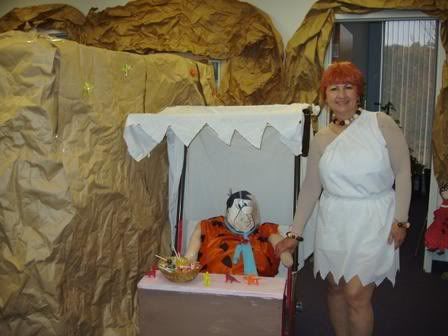 Setup for the par-tay...





And, me...forever the chick magnet. I'm sure there will be more pictures to come.