So I hate president Bush because I hate anyone who makes it harder to get crosstown than it already is normally. New York (as I'm sure you all know) is a grid and going across it widthwise, thanks to traffic and poorly timed lights, usually doesn't take any longer than 2 days. However, yesterday, after driving down the West Side highway, I made a left to start going cross town. Two streets later I was told by a bunch of cops that all the cars had to make a left because they had closed off some random street. Ok, fine. So I make a left. I am now headed back uptown and am forced to make a left after I finally find a street that isn't blocked off. I do so, and get back onto the west side highway where I started. I then make a left onto a different street, only to discover that this one too, is closed off, and traffic is once again diverted uptown. I did this for about half an hour, constantly looking around with the expectation that I'd eventually come across either an enormous piece of cheese or a minotaur.

Also, every cop in the city is standing on a corner in Manhattan, shooting the shit with other traffic re-directing cops, so if anyone was looking to commit a crime in Harlem or Brooklyn, now's the time to make your move.

I made it to my open mic on time though, and did well, so that made me happy. And I know I said I'm only going to post pictures in
raquel from now on, but I lied a little because I'm going to post another one right here behind a cut. After a long, dizzying, stressful drive, it made my day to get to spend time with this guy whose name I don't remember: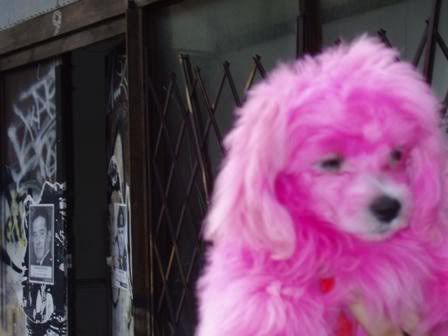 He was so fucking cute.

It's not often, in NY that I see something that actually makes me stop, but not only did I stop, I said, "Hey, can I take a picture of your pink dog?" and "Why did you dye him pink?" and "Does he pee on strangers?" and then I got to hold him and pet him while I chatted with his owner a while. Meanwhile SEVERAL passersby stopped and (this was my favorite) asked if she had dyed the dog, or if it was natural. But the dog was adorable and really well-behaved and soft. I asked why he was pink and she said she said she told people "pink for peace" but really she had always just wanted a pink dog.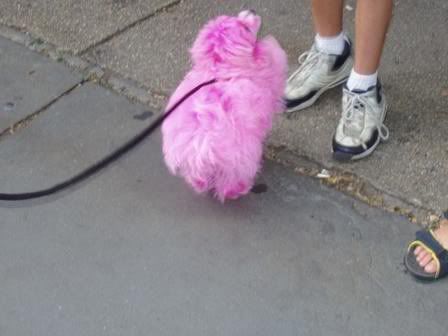 Dammit, now I want a pink dog.

For all you single girls out there, a pink dog is THE way to get guys to stop and talk to you. Or, if it's a pink triangular dog, to get other girls to stop and talk to you.