I promise now that I have a digital camera I won't take pictures of absolutely everything.
But it's brand new, so for a while I will. Hopefully the novelty will wear off really soon, but dammit, this is a fun toy. Much better than that stupid Potterycraft wheel I got for Christmas when I was ten...that I BEGGED for...that didn't even WORK. Or Pam's 'rock tumbler' thing that had to be plugged in in the garage because they don't tell you on the commercial you have to put the rocks in there and then leave it running FOR WEEKS until the rocks get smooth, and it makes a noise like horses running on hardwood floors and my mother was about to shit herself because the sound was so annoying.

Ok. Anyway.

This is where I sit...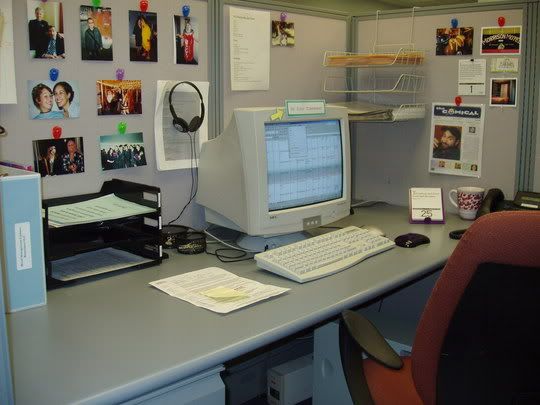 ...and do nothing! Ok, that's a lie. I do things. But they are few and far between. And they usually involve eating out of the garbage can or drawing space-age refrigerators on company letterhead.

Ok, that's a lie too. But not totally.